Ballynahinch waste offender John Paul Braniff has sentence reduced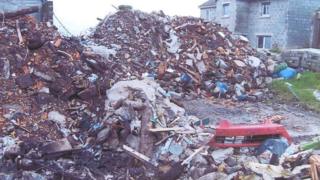 A County Down man who was jailed after 2,000 tonnes of waste were found on his land has had his sentence reduced by the Court of Appeal.
John Paul Braniff, 34, of Carnreagh Road in Ballynahinch, pleaded guilty to four waste offences last year.
He was given an 18-month sentence, with half of it to be spent in prison and half on licence, for keeping and treating the waste without a licence.
But on Friday, a judge reduced that to 12 months, with half spent in jail.
Asbestos
The case had been brought by the Northern Ireland Environment Agency, which had visited a farmyard and farm buildings owned by Braniff.
On six occasions between October 2011 and August 2012, it found piles of rubble and building waste as well as household bin bags, tyres and electrical items and items containing asbestos.
It estimated it would cost almost £240,000 to remove the waste.
The court heard that Braniff has 31 previous convictions dating back to 2002.
Risk
The Lord Chief Justice, delivering the Court of Appeal judgment, said Braniff "does not appear to think that the law applies to him".
"He is wrong," he added.
But the panel of three judges accepted there was no evidence of environmental harm caused beyond the actual dumping of the waste.
"The risk of environmental damage is itself a significant material factor, but will generally not be as serious as actual harm," the Lord Chief Justice said.
He confirmed Braniff's new sentence is six months in custody and a further six on licence.