Nama deal: NCA contacts BBC over Spotlight revelations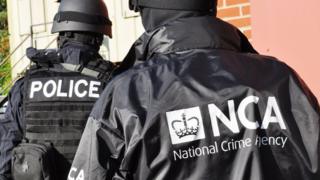 The National Crime Agency (NCA) has contacted the BBC about revelations in a Spotlight programme about the sale of the National Asset Management Agency's Northern Ireland property loans.
Nama sold the loan portfolio for more than £1bn in April 2014.
Spotlight covertly recorded former Nama advisor Frank Cushnahan claiming he was to receive fixer fees after the deal.
The NCA's director general Lynne Owens told the Policing Board that a NCA deputy director had approached the BBC.
A BBC spokesman said: "We can confirm that a meeting took place in advance of broadcast with the NCA at its request. The BBC will consider any further enquiries from the NCA in accordance with our established guidelines."
"He has been engaging with the BBC in light of the Spotlight programme and of course will follow any lines of inquiry that arise as a result of that programme," Ms Owens said.
The NCA, which has been described as the British equivalent of the FBI, took over the investigation into allegations about the Nama sale from the Police Service of Northern Ireland in July last year.
Meeting
The director general did not provide the Northern Ireland Policing Board with any details about the nature of the investigation.
She did not answer a question about the the number of people arrested or questioned as part of the inquiry, and said it was not possible to say how long it would take.
The BBC confirmed that a meeting with the NCA had taken place ahead of the broadcast of the Spotlight programme, at the NCA's request.
"The BBC will consider any further enquiries from the NCA in accordance with our established guidelines," the spokesperson added.
Allegations
Nama, a state-owned so-called 'bad bank', was set up in the Republic of Ireland to take control of property loans made by the country's banks before the financial crash in 2008.
It sold all of its Northern Ireland property loans to US investment firm Cerberus in April 2014.
Independent politician Mick Wallace first made claims about fixers' fees connected to the deal in the Irish parliament in July.
His allegations prompted the Northern Ireland Assembly and the Irish parliament to begin investigations into the deal.
Mr Cushnahan, who had been an adviser to Nama from May 2010 until November 2013, has consistently denied he was due to receive money as a result of the sale.