Bite attack on paramedic in Ballycastle prompts call for tougher sentences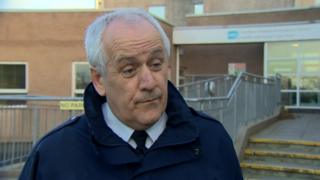 The Northern Ireland Ambulance Service has called for tougher sentences for people who attack paramedics after one was bitten by a patient he was helping.
The incident happened after 01:00 GMT on Thursday at a house in Ballycastle, County Antrim, where a man was reported to be unconscious.
An 18-year-old man was arrested on suspicion of disorderly behaviour, assault and assault on police.
He has been released on bail pending further inquiries.
The attack left the town without ambulance cover for almost seven hours as the paramedic had to go to hospital for treatment and was unable to finish his shift.
Help
Ambulance service spokesman John McPoland said there was a need for custodial sentences for people who assault ambulance staff.
"[The paramedic] had physical trauma, he will have emotional trauma and he will now be off for a while," he said.
"[Our staff] are quite simply going out to tend to the sick and the injured, using their expertise and professionalism to help somebody.
"They do not want to get repaid in this manner."