Dublin shooting: Getaway car in Vincent Ryan murder stolen last year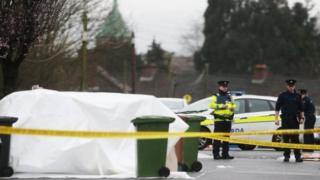 The getaway car used in the murder of a man in the Republic of Ireland earlier this week was stolen last year.
Vincent Ryan, 25, was shot dead in Finglas in Dublin on Monday after he had dropped off his partner and five-month-old baby.
The gunmen escaped in a silver Volkswagen Golf that was taken during a burglary in County Kildare in October.
Detectives are trying to establish where the car was kept until it was found burned on Monday night.
Feud
Irish police do not believe the murder of Mr Ryan, a dissident republican, is connected to the murder of David Byrne at a boxing weigh-in at a Dublin hotel last month.
Mr Ryan had been charged with possession of guns linked to the fatal shooting of Dublin criminal Michael Kelly but was later acquitted, although he remained a suspect in the murder.
His killing is believed to be connected to a feud between dissidents and criminals in Dublin that led to the murder of his brother Alan Ryan three-and-a-half years ago.