Man avoids jail over sex assaults on teen he met on bereavement website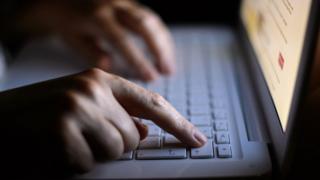 A young woman has warned of the dangers of meeting people online after a man she said groomed her on a bereavement website avoided a jail term.
The 21-year old was speaking after Jonathan Fawcett, who travelled from England to Northern Ireland to meet and have sex with her when she was 15, was placed on probation for three years.
They met on a suicide support website as they had both lost a loved one.
She said she hoped what happened to her would act as a warning to others.
Contact between the two began in 2008 when the girl was 14 and Fawcett was 19 - he was aware of her age.
Vulnerability
Their messages became sexual in nature and Fawcett travelled from his home on Manley Road in Lichfield, Staffordshire, in May and July 2009 to meet the girl at a County Antrim bed and breakfast.
On both occasions he engaged in sexual activity with girl, then 15.
Fawcett, who has autism and is now 26, admitted 18 counts of sexual assaulting the teenager.
A defence barrister said Fawcett's autism contributed to his lack social awareness.
But the judge said Fawcett "took full advantage" of the girl's vulnerability.
Fawcett was placed on three years' probation at Belfast Crown Court on Thursday after the judge said he was taking into account his condition.
The judge said the case was "exceptional", and referenced reports compiled on Fawcett that suggested he was at a high risk of suicide if he was jailed.
Excuse
Speaking afterwards, the young woman said the sentence was "not enough for what he did to me", adding that the last seven years of her life had been "ruined".
She said Fawcett's autism had been used as "an excuse for what he has done".
"He groomed me, he did what he did to me over those two weekends and he didn't spend a day in prison for it," she said.
"I honestly feel like he has got away with this.
"You need to be really careful about who you talk to and who you can trust online.
"You really don't know who they really are, so please be very careful."