Legal highs: Queen's University test to boost detection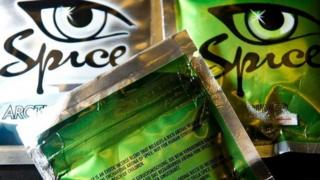 The battle against so-called legal highs has been boosted following the development of a new test by Queen's University in Belfast.
Scientists have created technology to quickly identify the substances within the drugs.
It has been described as a breakthrough in efforts to tackle the problem.
Legal highs got their name because when they first emerged in the UK there was no legislation in place to prevent their legitimate sale.
Subsequent prohibitions against certain drugs have followed and next month a total ban will come into force under the Government's Psychoactive Substances Act.
The ban covers "any substance intended for human consumption that is capable of producing a psychoactive effect", with certain exceptions such as caffeine and alcohol.
Those caught producing or supplying such drugs will face a maximum prison sentence of seven years.
'Constantly evolving'
The new technology produced by Queen's will enable statutory agencies to identify the actual substances contained within the legal highs more quickly, so more prompt public health warnings can be issued.
Queen's professor Steven Bell said: "The production of these drugs is constantly evolving and unfortunately there have been many instances of highly dangerous variants appearing, causing multiple fatalities before the threat they posed was recognised.
"In 2014 alone, 101 new psychoactive substances were identified.
"As a result of the new approach devised at Queen's, we predict that we will be able to identify many more substances and at a much more rapid pace as our work in this area progresses.
"This will not only aid in the creation of new legislation but will also enable more meaningful information to be available to the community, police and public health agencies, with the aim of saving lives and preventing serious injury."
Justice Minister David Ford said the importance of the work could not be overstated.
"Legal highs continue to be a major problem on our streets and because so many compounds are available, it is very hard to keep ahead of those producing them," he said.
"Whilst there's still work to do, this research will help Forensic Science Northern Ireland to identify what's in these legal highs more quickly, enabling them to identify substances and get public health messages out to communities."