Warning issued over Trócaire box scam in Irish Republic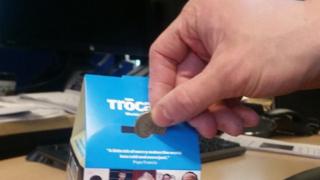 The charity, Trócaire, has warned that criminals are operating a scam involving its collection boxes.
Trócaire boxes are distributed by Catholic churches to parishioners during lent.
The money raised helps people in developing countries to rebuild their lives after conflict or disaster.
But Trócaire said scammers "in some parishes" in the Republic of Ireland are using the boxes to con people out of money.
Earlier this month, there were reports of residents in Tullamore, County Offaly, being targeted.
In a message to parishes, the charity said some Irish homeowners had Trócaire boxes delivered to the door with instructions that they would be collected at Easter.
It stressed that this was not their method of delivery or collection, and asked anyone who knew of such activity to report it to the police and the charity.