Maurice Devenney: Former MLA and DUP councillor joins Ulster Unionists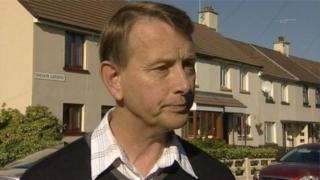 Former DUP MLA and Londonderry councillor Maurice Devenney has joined the Ulster Unionist party.
Mr Devenney quit the DUP after being suspended over allegations that he canvassed support for the SDLP in last year's Westminster election.
He denied the accusation.
Mr Devenney said s decision to join the Ulster Unionist Party was taken after "intense discussion" within the broader unionist family and "prayerful consideration".
He will join the Ulster Unionist block on Derry City and Strabane District Council.
Mr Devenney's defection to the Ulster Unionists followed a bitter fall out with his former DUP party colleagues.
UUP leader Mike Nesbitt MLA said he was "particularly pleased to welcome [Mr Devenney] into the Ulster Unionist Party, given his standing in the community, his lengthy record of service for the people, and his obvious appetite for more.
"Maurice joins an ever-lengthening list of elected representatives who are opting to change their party political allegiance to Ulster Unionism."
It is not clear yet if Mr Devenney will contest the forthcoming Northern Ireland Assembly elections for the Ulster Unionist party in the Foyle constituency.