Animal cruelty: PPS may refer 'unduly lenient' sentences to Court of Appeal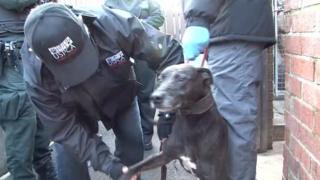 The Public Prosecution Service will be able to refer "unduly lenient" animal cruelty sentences back to the Court of Appeal under proposed new powers.
It will apply to anyone convicted of causing unnecessary suffering to animals.
The proposals are part of a review of the implementation of animal welfare laws published on Monday.
It was prompted by the case of four Belfast men who received suspended sentences in 2014 for animal cruelty.
The men were given six-month suspended prison terms after admitting keeping or training animals in connection with dog fighting.
Evidence in the case included a video of a cat being attacked and killed by dogs.
The prosecution did not make the case that any of the accused were present when it was taken.
Tougher
The sentences caused outrage, but at the time the director of public prosecutions said he was powerless to refer the men to the Court of Appeal.
That was because they were not on a list of offences covered by the regulation.
Legislation has now been tabled at the Northern Ireland Assembly to change the law.
It needs assembly approval, but is expected to take effect from 1 April 2016.
It will apply to three offences, including one of causing unnecessary suffering and two of animal fighting.
The changes come on top of tougher sentences for animal cruelty offences in the recent Justice Bill.
Unlimited
They will see the maximum sentences for animal welfare offences, which are dealt with in magistrates' courts, increase from six to 12 months imprisonment.
A magistrate can also impose a fine that will increase from £5,000 to £20,000.
For more serious cases dealt with at crown courts, the sanctions will increase from a two-year sentence to a five-year term.
The fine will continue to be unlimited.
Agriculture Minister Michelle O'Neill said she believed the changes would send "a very clear message that we will not tolerate cruelty and that those individuals who neglected and abused animals would pay in court".
In addition, three offences will be re-categorised so the prosecution service can decide to deal with them in crown courts instead of magistrates' courts.
They include the offence of supplying, publishing or showing photographs or video of an animal fight.