Proposals for Northern Ireland's four main churches to jointly run some schools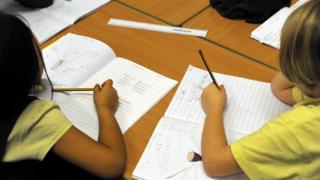 A public meeting in Omagh, County Tyrone, has heard about proposals for Northern Ireland's four main churches to jointly run some schools.
Any such school would be managed the Catholic Church, Church of Ireland, Methodist and Presbyterian churches.
It would be faith-based and have a Christian ethos.
There are currently no schools of this type in Northern Ireland but the meeting heard some existing schools were interested in changing.
However, no names of schools considering the move to become joint church schools were revealed.
'Equal representation'
Dr Peter Hamill from the Transferors Representative Council (TRC), which represents the main Protestant churches, said church schools were not the same as integrated schools.
"In a jointly managed school, it would be very clear that this would have a Christian ethos.
"It would have a clear policy on how worship would be conducted and how faith was reflected in the running of the school."
The new school's board of governors would also have equal representation from the Catholic and Protestant churches.
The meeting heard that a small number of schools were exploring mergers in order to be jointly run by the churches.
Sustainability
It would involve an existing controlled school amalgamating with a Catholic maintained school.
The meeting was told that schools with small pupil numbers, or questions over their sustainability, were most likely to consider such a merger.
However, other more viable schools may also consider becoming joint church schools - those involved in shared education projects for example.
The Education Minister John O'Dowd would ultimately have to approve the setting up of any jointly managed church school.
The meeting heard from representatives of the Council for Catholic Maintained Schools (CCMS) and the TRC.
Officials from the Department of Education (DE) and Education Authority (EA) also addressed the meeting.
Recommended enrolment
A DE official revealed that more than half of the schools in Omagh and County Fermanagh had fewer pupils than the recommended sustainable number.
The recommended enrolment is 105 for primary and 500 for post-primary schools in rural areas.
Forty-eight out of 84 primary schools in the area were below that threshold.
Meanwhile, 16 out of 21 post-primary schools in Omagh and Fermanagh had fewer than 500 pupils.
There are a number of joint faith schools elsewhere in the UK, run jointly by the Catholic Church and Church of England, for example.
DE previously published guidance on jointly managed church schools in April 2015.
About 40 people attended the meeting on Wednesday night which was organised by the Rural Centre for Shared Education.