Breast Cancer: Belfast Trust secures funding for extra consultant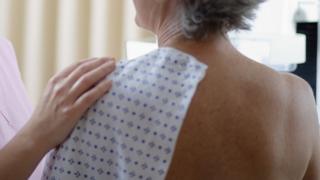 The Belfast Health Trust has secured funding for a further consultant breast surgeon to be appointed at the Belfast cancer clinic, the BBC has learned.
It follows news that more than 120 women with suspected breast cancer - and not seen within a 14-day target - were later told they had the disease.
Former health minister Michael McGimpsey said he was "outraged".
The Department of Health said breaches were due to staff shortages and a rise in patient referrals.
'Unacceptable'
They added that a recent study found Northern Ireland had the best breast cancer survival rate in the UK and Ireland.
However, Ulster Unionist MLA Mr McGimpsey expressed anger about the 2015 waiting times, which he said varied across Northern Ireland's health trusts.
"There is an unacceptable degree of variation across each of the health trusts, with only 11% of referrals being seen on time in the Northern Trust area and 24% in the Belfast Trust area," he said.
"I am outraged to have been told by [Health Minister] Simon Hamilton in response to an assembly question, that in the Belfast Trust last year, 121 people were not seen on time and were later diagnosed with breast cancer.
"Targets are set for cancer treatment because there is very sound medical evidence that proves the longer a patient has to wait for treatment, the greater the risk that they may ultimately come to harm.
"Cancer is a vicious disease that thrives during any avoidable delay in treatment."
'Red flag'
In response, the Department of Health spokesperson said the Belfast Health and Social Care Trust managed 2,759 "urgent suspect cancer breast referrals" last year and the "vast majority" (93%) did not have a cancer diagnosis.
In relation to the breached targets, they said: "While 6.4% (121) of those not seen within 14 days of initial urgent/red flag referral were subsequently found to have a breast cancer diagnosis, it is important to be clear that 92.5% of these patients were still treated within the targeted 62 days.
"That some missed the initial 14 day marker is reflective of some outpatient capacity issues caused by senior medical staffing shortages during the year and also a number of peaks in referrals made to the service."
Earlier this month, figures from the Northern Ireland Cancer Registry showed a dramatic rise in the numbers of women being diagnosed with breast cancer, with an overall increase of 53% in the number of women being treated for the disease in the last 20 years.
Dr Anna Gavin, who led the research, said the rise in breast cancer cases was largely driven by Northern Ireland's ageing population.