Arlene Arkinson: Witness tells inquest she initially thought teen was not dead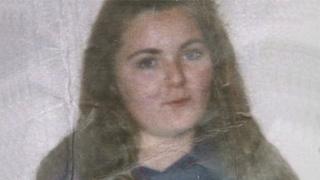 One of the last people to see Castlederg teenager Arlene Arkinson alive has said she initially thought her friend was not dead.
However, Donna Quinn admitted she did think child killer Robert Howard had done something to her.
She was giving evidence at Belfast Coroners Court.
She admitted lying to police about being with Arlene on the night she disappeared, on Howard's instructions.
Ms Quinn said Howard told her: "Don't be saying Arlene was with us."
Arlene, 15, disappeared in 1994 after a disco in County Donegal in the Republic of Ireland.
"I always thought she would be back," Ms Quinn said.
"Arlene would have went away, I didn't think she was dead.
"As time went on I thought Howard had done something to her.
"I thought there was something suspicious but I never thought she was dead."
Ms Quinn went on to tell the inquest that she knew in her "heart and soul" that her friend was dead, and that Robert Howard had probably sexually abused and killed her.
She said: "I have no doubt he killed her. I think he sexually abused and killed her."
Ms Quinn said she was a vulnerable girl at the time of Arlene's disappearance.
She told the court that Howard boiled her pet rabbit and smashed the skulls of kittens for fun before showing her the bodies.
Ms Quinn agreed Howard probably used her to get access to other young girls in the Castlederg area.