Belfast police raid: Witness describes dramatic arrest operation after shooting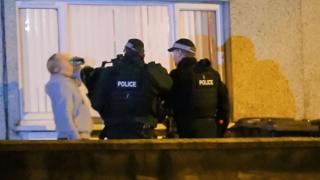 A woman who was caught up in a police raid has described the "frightening" moment officers ordered her out of a west Belfast house at gunpoint.
Armed police targeted the property at Aspen Walk in Twinbrook in the early hours of Wednesday after a man was shot in the leg in nearby Glasvey Drive.
An officer pointed a gun to a man's head during the Aspen Walk operation.
Two men were arrested on suspicion of attempted murder. The woman who witnessed the raid was not detained.
She was first to leave the house when armed police ordered all those inside to come out one by one.
The woman, who did not want to be identified, told BBC Newsline: "They told us all to put our hands up in the air and everybody to walk out, one at a time and 'drop your weapons'."
She described seeing "red dots" from the police weapons as she came out of the house.
"I was really, really frightened," she added.
The unarmed woman said she was holding a mobile phone and one of the officers told her to put her "weapon" down.
The armed response unit was investigating the Glasvey Drive shooting in which a 41-year-old man was seriously injured.
A police helicopter was deployed before the suspects, aged 25 and 35, were arrested.
They both remain in police custody and officers have been carrying out searches in Aspen Walk.
A Police Service of Northern Ireland detective said: "A motive for this attack has not yet been established.
"I would appeal to anyone who witnessed the incident or anyone with any information that would assist with our investigation to contact detectives in Lisburn police station."
Photographs taken at the scene by photographer Kevin Scott show the raid on the house.