Arlene Arkinson: Witness 'has no idea where Arlene buried'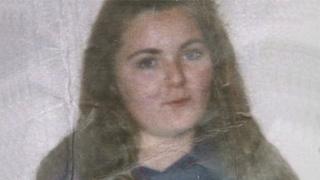 One of the last people to see Arlene Arkinson alive has told an inquest he has no idea where she is buried.
Arlene, a 15-year-old from Castlederg, County Tyrone, vanished after a night at a disco in County Donegal in 1994. Her body has never been found.
Sean Heggarty, his girlfriend Donna Quinn and child killer Robert Howard were out in Bundoran with Arlene on the night she disappeared in August 1994.
Mr Heggarty said that he thinks about her every day.
When asked if he knew where Arlene was buried he said "Absolutely not. I wonder about Arlene every day of my life; what happened from a normal night out is unbelievable.
"I can safely say I can see no difference from that particular night to any other."
Mr Heggarty said in the days after Arlene disappeared, at the request of Ms Quinn - whose mother was Howard's girlfriend - he lied about being in Arlene's company.
But later he told police the truth.
When Howard found out, he became agitated, it was claimed.
"He sounded surprised as far as I recall. He said 'you what?'" Mr Heggarty said.
"He seemed very panicky, alarmed."
On Monday, Mr Heggarty told the the inquest into Arlene's murder that Howard dropped him home along with Ms Quinn in the early hours of the morning and then drove off with Arlene.
He said although he had heard rumours Howard had sexually assaulted a teenage girl he was not concerned for Arlene's safety.
Howard died last year while serving a prison sentence for the murder of Kent teenager Hannah Williams.