Maghaberry: Remand prisoner dies in custody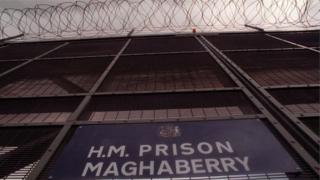 Three separate investigations are under way after a prisoner who was being held at Maghaberry jail in County Antrim died in custody.
The 24-year-old, who was on remand, was taken from the prison, to hospital on Thursday 11 February.
He died on Monday.
The police, coroner and Prisoner Ombudsman have each launched investigations into the death. Prison Service Director General Sue McAllister said it was a tragedy.
"I extend my sympathy and that of the Northern Ireland Prison Service to the family of the prisoner who has sadly died," she said.
A spokesperson from the Prison Service said no comment would be made as the death is the subject of a police investigation.