Farmer Martin Hamilton fined for polluting River Enler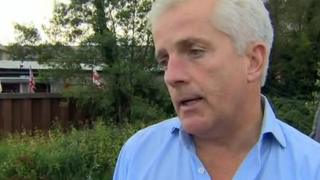 A County Down farmer has been fined £3,000 for polluting a river.
Martin Hamilton of Ballyrainey Road in Comber, was convicted in connection with pollution of the River Enler in February last year.
A court in Newtownards was told that one of two incidents of pollution left the river "grossly polluted", while a second incident days later caused "serious pollution".
Hamilton was fined £1,500 on each count.
The judge said he accepted Hamilton had installed a £500,000 treatment system and had "done his best" to avoid pollution despite bad weather at the time.
Hamilton has a number of previous convictions linked to pollution of the same river since 2010.