Skegoneill Avenue, north Belfast: Man hit with hammer in street attack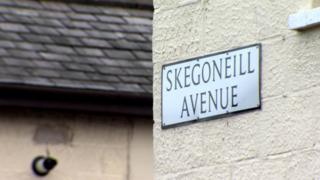 A man has been knocked to the ground and hit with a hammer during an assault by a group of youths in north Belfast.
The 20-year-old was attacked on Skegoneill Avenue at about 18:35 GMT on Saturday. It is believed that up to 10 people were involved in the incident.
The victim suffered a suspected fractured wrist as well as swelling to his head and face.
A 17-year-old boy was arrested a short time later and is being questioned on suspicion of grievous bodily harm.
The trouble followed an Irish league football match between Cliftonville and Crusaders.
"During my term as a councillor we have had numerous meetings after instances like happened yesterday," Ulster Unionist councillor David Browne said.
"It doesn't happen all the time, it could be quiet for months, sometimes years, and then instances break out.
"It's sad from a sporting perspective, it's sad for the two clubs who are both doing very well at the minute."
Police have appealed for anyone who was in Skegoneill Avenue or Jellicoe Avenue on Saturday evening and who witnessed the assault or any suspicious activity to contact them.