Sinn Féin complaint against Wells rejected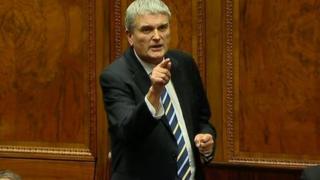 The Northern Ireland Assembly's committee for standards and privileges has rejected a complaint by Sinn Féin MLA, Megan Fearon against DUP MLA Jim Wells.
A complaint against Mr Wells was lodged following an incident in the assembly on Tuesday 9 February.
As Ms Fearon was leaving the chamber, Mr Wells appeared to confront her.
He said afterwards that he was warning her that comments she had made on social media had been defamatory.
The committee has concluded that the complaint was "inadmissible."
'Wasting Police time'
Meanwhile in relation to a separate incident, a 48-year-old woman who complained about remarks made by Jim Wells has been charged with wasting police time and will appear in court in March.
The charge relates to a complaint made to the PSNI in the wake of a hustings event in Downpatrick last April.
The South Down MLA stepped down as health minister after the event following controversy surrounding his comments about same sex relationships.