Bombardier job cuts: Foster pledges support to firm and employees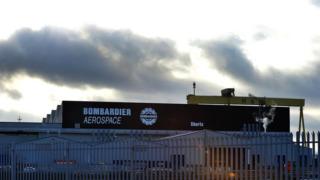 Northern Ireland's first minister has said she will make every effort to soften the blow of major job cuts by the aerospace company, Bombardier.
The Canadian-owned firm announced plans on Wednesday to cut more than 1,000 posts over the next two years.
It is part of a cost-cutting drive that will see Bombardier shed 7,000 jobs across its global workforce.
First Minister Arlene Foster said it is vital that Stormont's ministers continues to support the firm.
"I think what is important is that we recognise the value of jobs to Belfast," she said.
Mrs Foster said representatives from the company "have been very clear that there's nothing could have been done by the Northern Ireland Executive or indeed the UK government to stop these job losses".
She added that Bombardier hoped "they will bounce back and they will continue to grow and we will continue to support them".
Bombardier is one of Northern Ireland's largest private sector employers, providing jobs for 5,500 people and additional work for many other local suppliers.
It operates in four locations in County Antrim, Northern Ireland - east Belfast, Newtownabbey, Dunmurry and Newtownards.
The firm's significance to the economy is huge - it produces 10% of Northern Ireland's total manufacturing exports.
Stormont's Enterprise Minister Jonathan Bell told BBC Radio Ulster he would work to ensure that Bombardier staff who are at risk of redundancy are offered training and support to apply for the "thousands" of new manufacturing posts being created locally.
"Bombardier and Invest Northern Ireland and all the resources of government will be put behind them to spring back from this position and to try to secure future, high-value jobs in Northern Ireland."
'Secure'
He said 18,000 new manufacturing jobs had been created in the sector over the last two programmes for government, supported by a £3bn investment from the public purse.
Mr Bell added that the manufacturing sector "is growing in Northern Ireland at a faster rate than any other part of the United Kingdom", according to new figures from Her Majesty's Revenue and Customs (HMRC).
The enterprise minister has had five meeting with senior management at Bombardier and said he had been assured the firm was "committed to Northern Ireland" and that Belfast plant was "secure for future generations".
"In fact, in my conversations with them they say 'there is no future for Bombardier without Belfast'," Mr Bell added.