Queen's University to close department that organised Charlie Hebdo event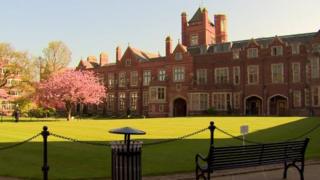 Queen's University, Belfast, is to close the department which organised a conference to discuss the fallout from the Charlie Hebdo murders in France last year.
The Belfast university initially cancelled the conference in April 2015, citing concerns about the security risk for delegates and the reputation of the university.
However, after widespread criticism from novelists, poets and academics, it later reversed its decision and the conference went ahead.
Now, staff at the Institute for Collaborative Research in the Humanities (ICRH) - which held the event - have been told that it is closing.
The news came in a letter from the university's Pro-Vice-Chancellor, Prof Adrienne Scullion.
In it, she wrote that the ICRH "will cease operation from 31 July, with all activities being wound up with immediate effect".
The BBC understands that the Institute's director, Prof John Thompson, left the university last week.
Of the other 19 staff, about half were full-time researchers, some of whom have secured academic jobs elsewhere, while others have been transferred to other departments in Queen's.
Dr Brian Klug, from Oxford University, who took part in the Charlie Hebdo conference, said the work of the institute had reflected very well on Queen's University.
"It augmented the university's reputation in the world," he said.
"In particular, the symposium on the Charlie Hebdo affair was outstanding, setting an example of social responsibility for other universities to follow."
"I was enormously impressed by the calibre, integrity and initiative of the academic staff and I am terribly sorry at the university's decision to close the Institute down."
Alan Harpur from the University and College Union also criticised the decision to close the ICRH.
"Some people will be saying it's a result of Charlie Hebdo, and Queen's getting its own back," he said.
"In the absence of Queen's explaining itself fully to the staff concerned, those rumours are going to continue."
However, a spokesperson for the university said the decision had been taken in the context of wider plans for the future of Queen's.
'Evolving strategy'
"As part of this exercise, the Faculty of Arts, Humanities and Social Sciences is evolving a strategy to grow more collaboration and cross-disciplinary research and teaching activity," they said.
"The ambition that the university and the faculty has for collaboration and cross-disciplinary activity is being taken forward in a number of new ways."
"These include the establishment within the faculty of a new global research institute - the Senator George J Mitchell Institute for Global Peace, Security and Justice."
Twelve people died when two brothers, Said and Cherif Kouachi, fired on journalists on 7 January 2015 at Charlie Hebdo's offices in Paris.
Five others were killed over the two following days by one of their associates.