Assembly group will meet to address expenses controversy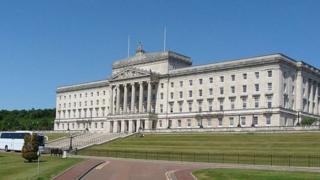 The cross-party group which manages the business of the assembly is to meet on Wednesday to discuss the controversy over Stormont's expenses system.
The speaker has called a meeting of the Assembly Commission.
An assembly spokesperson said its purpose would be to agree further actions to address the issue.
On Tuesday, details emerged from a leaked report by Westminster's Independent Parliamentary Standards Authority (IPSA).
It expressed concerns about the way Stormont reviewed expenses claims which had been refused.
However, an assembly spokesperson said the IPSA report, which had been commissioned by Stormont, "did not find any major issues of concern".
The spokesperson added that the report had made recommendations on a "small number of matters" which were currently being considered by the Assembly Commission.
'Open and transparent'
The statement from the assembly said: "The methods for MLAs to seek a review of a decision to refuse payment of a claim is entirely open and transparent."
The leaked IPSA report detailed a case in which an unnamed MLA approached the assembly's senior management after a staff member requested justification for a bill, apparently incurred while the MLA was on holiday.
"The MLA in question was unhappy at being asked to provide justification and has [we are told] escalated the issue to the senior management of the assembly," the IPSA report said.
The assembly spokesperson said: "Justification was provided promptly by the MLA directly to the member of staff who had raised the query and payment was subsequently made.
"Therefore, the expectation by IPSA (and the Commission) that all MLAs should, when requested, provide justification for every claim was fully met."
Disagreement
In the last few days, the Independent Financial Review Panel (IRFP), which sets MLAs' expense allowances, and the Assembly Commission - which administers them - have criticised each other.
A disagreement arose when chair of the IRFP Pat McCartan claimed that the commission had been wrong in 2012 to pay £150,000 in expenses for a company which had done work for Sinn Fein MLAs.
But the commission said the allegation it had made unlawful payments was "simply not true".
The First Minister, Arlene Foster, has suggested the assembly should move to a regime similar to the Westminster model, in which IPSA runs the entire expenses system.
The Deputy First Minister Martin McGuinness says no MLA would object to taking "a fresh look" at how the Stormont system operates.