Arlene Foster to attend Easter Rising event but says it is 'not a commemoration'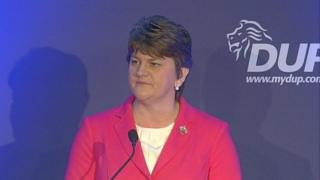 Northern Ireland First Minister Arlene Foster is to attend a Dublin event in which the 1916 Easter Rising will be debated a century after the rebellion.
Last month, she said she would not attend any centenary commemorations of the "very violent" Irish rebellion.
She has now said Wednesday's event is "not a commemoration" but a "more considered discussion" about 1916.
The event, in Christ Church Cathedral, been organised by the Church of Ireland Historical Centenaries Working Group.
In a statement, the Church of Ireland said the group would "mark the centenary of the Easter Rising with an evening of engaging presentations by leading Irish historians".
A Church spokesman later added a clarification to the statement, saying the event was not being staged as a "commemoration" of the rebellion, but was "designed to mark the centenary of the Easter Rising by exploring it historically".
'Violent republicanism'
The rising was a short and ill-fated republican rebellion against British rule in Ireland.
It lasted just one week - from 24 April (Easter Monday) to 30 April 1916 - but despite its military failure it is seen by many historians as a significant stepping-stone in the partition of the island and the eventual creation of the Republic of Ireland.
Mrs Foster became first minister of Northern Ireland last month, and the day before her appointment, she told the BBC she would not attend any commemoration of a "very violent attack" on the British state which had given "succour to violent republicanism".
In a statement on Monday evening, Mrs Foster said: "I made it clear previously that whilst I will not celebrate the events of the Easter rebellion I would be open to attending a more considered discussion about events in 1916.
'Historical knowledge'
"The Church of Ireland Historical Centenaries Working Group has organised an evening of presentations from leading historians and an opportunity for discussion.
"This event is not a commemoration of the events of Dublin in 1916 but is in line with the type of event I indicated that I would be happy to attend.
"I will be attending this event and look forward to an opportunity of gaining a deeper historical knowledge of events and to hear the stories of ordinary people coming from a range of differing viewpoints."
The event is entitled: "A state of chassis - Ordinary People in Extraordinary Circumstances in Dublin in 1916".