Attorney General says PSNI officer acted with 'flagrant illegality'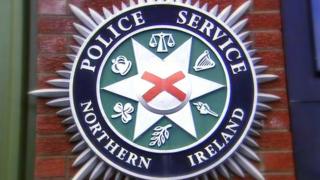 A PSNI officer accused of trying to arrest one of Northern Ireland's most senior judges acted with flagrant illegality, the attorney general has told Belfast High Court.
John Larkin QC said Thomas Anthony Carlin's approach to Lord Justice Gillen during a trial last month was an inexcusable disruption of proceedings.
The attorney general is prosecuting Mr Carlin for contempt of court.
Mr Carlin, 43, faces possible imprisonment if found guilty.
The police officer told the High Court he was being denied a fair trial and was being subjected to a malicious prosecution.
At one stage, Lord Chief Justice Sir Declan Morgan ordered a group of his supporters to be ejected from the public gallery after they stood up to back his allegations.
Sir Declan said: "I'm removing these people for disrupting the process rather than taking action against them."
House repossession
Mr Carlin's alleged outburst came at the end of a ruling in a house repossession case last month.
He had been representing himself in the legal battle with Santander bank over a property in County Antrim.
At the end of that High Court hearing, he allegedly got up and moved towards the bench, claiming he was going to arrest Lord Justice Gillen.
Security and court staff intervened before he was led from the courtroom.
He was arrested on suspicion of two counts of common assault, but subsequently released without charge.
The Police Ombudsman has also launched an investigation into the incident.
Mr Carlin is alleged to have interrupted proceedings without justification, refused to resume his seat, approached the presiding judge, threatened to arrest him without lawful excuse and physically interfered with a court tipstaff.
Declined to apologise
He has rejected offers of legal representation and declined to apologise for his actions.
As the case against Mr Carlin got under way on Monday, Sir Declan said he was potentially exposed to a sentence of imprisonment.
The policeman replied by telling the lord chief justice, sitting with Mr Justice Horner, that he did not understand, or consent to the proceedings.
Mr Carlin, who repeatedly asked for a trial by jury, said: "There's no independent tribunal, therefore this is not a court of record."
But dismissing that assessment, Sir Declan responded: "Your submission is nonsense."
Interjections continued throughout the hearing, with Mr Carlin at one point arguing that both judges and the attorney general should stand down from the case.
He also said: "Lord Justice Gillen has used his judicial influence to deflect determination away from criminal actions for which I arrested him."
Mr Carlin also claimed that the judiciary in Northern Ireland could not provide him with a fair trial because it had a vested interest in the outcome.
However, after being told that the public was watching, Sir Declan said: "I know you're very fixated with the question of attention, but we are going to deal with this case on the basis of facts."
A recording of the incident with Lord Justice Gillen was then played in court.
On the tapes Mr Carlin was repeatedly heard to tell the judge he was under arrest, and accusing him of misconduct in public office.
'Suspicion of criminality'
The attorney general said: "He transformed his disappointment (at the outcome) into a suspicion that some criminality had occurred.
"I was quite prepared to accept Mr Carlin wasn't acting in bad faith, but that doesn't take away from the flagrant and obvious illegality of what he was doing."
All Lord Justice Gillen had done, Mr Larkin added, was deliver a judgment which the PSNI officer profoundly disagreed with.
"Mr Carlin takes the view he had properly exercised a power of arrest," the attorney general said.
"The short answer is he didn't, he didn't come remotely close to exercising a valid power of arrest."
He added: "The evidence discloses a clear intention to disrupt court proceedings, and there's no lawful excuse for the disruption."
As the hearing developed, Mr Carlin confirmed he wanted to give evidence, but sought more time to prepare, claiming his attention to date had been focused on constitutional issues.
Following deliberations the judges agreed to adjourn until later this week.