Speaker defends expense payments to Sinn Féin MLAs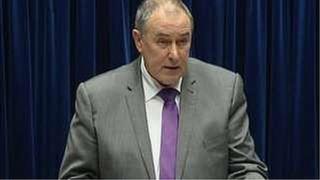 The speaker of the assembly, Mitchel McLaughlin, has defended it against criticism from the watchdog which oversees MLAs' pay and expenses.
On Sunday, the chair of the Independent Financial Review Panel said the Assembly Commission was wrong to approve expense payments to a company which did research for Sinn Féin MLAs.
Pat McCartan said it had passed payments of up to £150,000 to Research Services Ireland (RSI) in 2012.
He said such payments had been banned.
Mr McCartan told BBC Sunday Politics: "We made a determination which started from 1 April 2012 and which outlawed payments made to companies like RSI."
"Yet it appears from information I now have that payments have been made up to the end of December of that year."
'Integrity'
At the start of assembly business on Monday, the DUP's chief whip, Peter Weir, said allegations had been made which were "erroneous and mischievous" and had "struck at the integrity of the assembly".
Mr Weir said the panel had "made a mistake in terms of drafting" in their March 2012 determination and said a fresh determination had been made in December 2012 to deal with the "apparent ambiguity" in the first determination.
Mr McLaughlin said he could confirm this was the case.
The Assembly Commission, which runs Stormont, is chaired by the speaker and includes MLAs representing the five main parties.
Sinn Féin MLA Caitriona Ruane, who is on the Assembly Commission, asked the speaker to confirm that the assembly finances were audited internally and externally.
Mr McLaughlin again confirmed this was the case and said he had "double and triple checked it".
However, Mr McCartan said the panel stood by its claims.
"I'm aware of the remarks and quite happy this matter is given a public airing," he added.