Council approves Blackstaff Square student housing scheme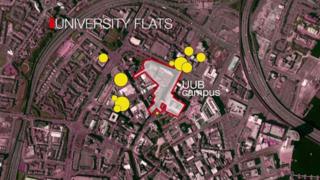 A 476 bedroom student housing scheme has been given the go-ahead by Belfast City Council.
It will be built at McClintock Street/Blackstaff Square, on the site of a former Metropolitan College building.
It will be used by Queens University, which recently bought the scheme from property firm McAleer and Rushe.
McAleer and Rushe will build the development with a summer 2018 completion target.
Two other student housing applications were deferred, pending site visits by councillors.
They were for a 407 unit scheme on York Street and a 156 unit scheme on the Dublin Road.
The Dublin Road scheme has attracted objections from some local residents.
The council's planning committee heard concerns about the design of the building, anti-social behaviour and car parking.
Meanwhile, the council has approved a plan to convert the War Memorial Building on Waring Street into a boutique hotel.
A 75 unit apartment scheme on Chichester Street was also given the go-ahead.