Dublin-Belfast train service delayed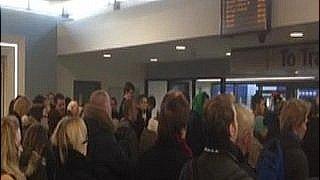 Some travellers using trains on the Portadown line on Monday morning have faced lengthy delays.
Translink said that the delays have been caused by a defective train.
Some passengers complained about the length of time they had to spend on the train before alternative arrangements were made.
Andrew Metcalfe tweeted: "Perhaps you could ask @Translink_NI why passengers were left 3 hours on a freezing broken down train."
Another passenger took to Twitter, saying: "Sitting for over an hour on a train that is so cold, I can see my breath. @Translink_NI this is beyond ridiculous. We all have work to go to."
A Translink spokesperson said: "The 7.20am train service from Portadown to Belfast, experienced a mechanical failure just outside Portadown. The train has now been moved into Portadown train station for further investigation."
The passengers were put on to another train to finish their journey.
Translink has apologised to passengers for the inconvenience.