Family home in Holywood, County Down, damaged in arson attack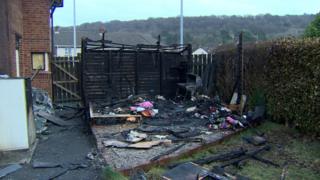 A man has been arrested after a family's home in Holywood, County Down, was badly damaged in an arson attack.
A shed at the house in Clarehill Lane was set alight at about 06:30 GMT on Saturday. The blaze then spread to a nearby oil tank and to a family home.
A couple aged 26 and 28 and their four-year-old daughter were in the house at the time.
They were able to make their way outside unharmed but their home was extensively damaged.
The shed contained furniture, children's toys, clothes and photographs, all of which were destroyed.
A 33-year-old man was arrested early on Saturday afternoon at house in Oakley Avenue.
Police have appealed for witnesses to contact them.