Republic of Ireland fans to get Euro ticket news on Friday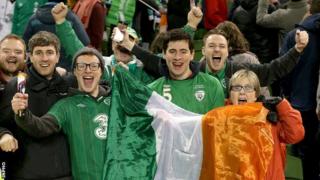 Republic of Ireland football fans will hear on Friday if they have been successful in their ticket application for Euro 2016.
A total of 275,000 applications were received from Ireland supporters for the three group games in France.
It is understood a large number of followers applied for all of the games.
As it stands, 16,087 fans will be accommodated for the June 13 opener with Sweden in the Stade de France.
A further 7,095 will get tickets for the Belgium match in Bordeaux on 18 June.
Just under 10,000 will secure a pass for the closing match with Italy in Lille on 22 June.
Football correspondent for the Irish Independent, Daniel McDonnell, said initial allocations from UEFA were smaller, but they reviewed the situation and offered a number of competing nations extra tickets.
Speaking on BBC's Evening Extra programme, Mr McDonnell said: "It's expected that the FAI will ask for more, regardless of the outcome, while they also have an extra 2,000 tickets per game that will be given out after the first ballot to selected fans who missed out in addition to members of the 'football family.'
"Irish supporters applied through the UEFA portal, with European football's governing body then receiving information from the FAI about supporters that should be prioritised based on their travel record and affiliation to supporters' clubs and schemes."
On Tuesday, Northern Ireland football fans contacted BBC Radio Ulster expressing anger at their inability to purchase tickets.
Many fans, who said they ranked near the top of the IFA's 'priority list', missed out on tickets for the Poland game.
Particularly affected were fans who applied for category 3 tickets - the second cheapest kind.
After being "inundated" with calls from frustrated fans, the Irish Football Association said Uefa will set up a portal for fans to apply for extra European Championship tickets.
The portal, for the match against Poland, will be open to supporters on a priority list who were were informed they had missed out on Tuesday.
On the fate of Republic of Ireland supporters, Mr McDonnell added: "With their counterparts in other countries receiving the good or bad news, nervous Ireland fans are waiting on their e-mails and money to be taken from their bank account.
"There was speculation that word could be sent out [on Wednesday], but it's understood that the FAI are preparing for answers on Friday after receiving correspondence from UEFA to that effect."