An old brass plaque holds mystery of NI Somme soldier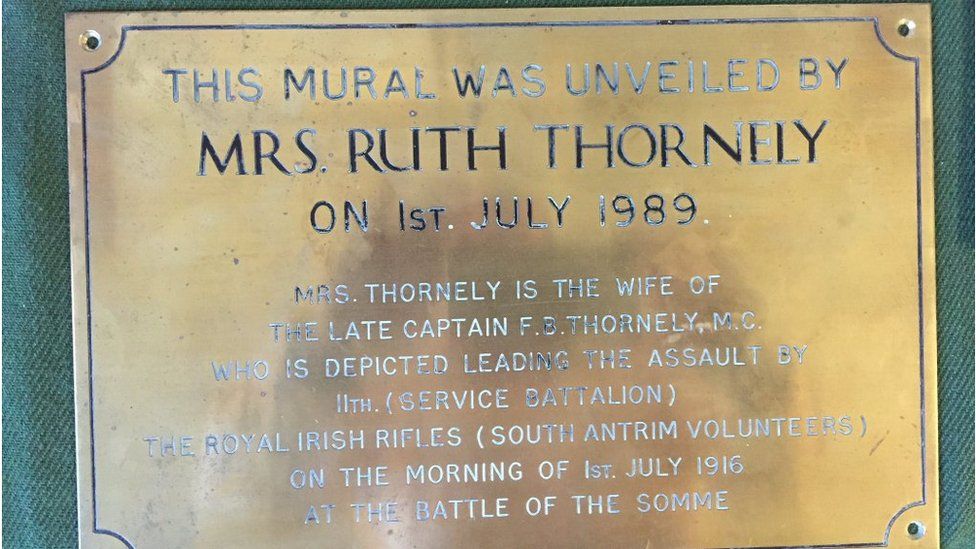 An old brass plaque found in a box of scrap metal has set a former soldier on the trail of a mystery dating back 100 years to the Battle of the Somme.
Doug Beattie was handed the metal plaque in east Belfast.
"A friend found it in a box. He knew I had a military background and thought I'd be interested," he said.
"It looks like it belonged to a mural somewhere. Perhaps someone took it down to clean it."
The plaque states that a mural was unveiled by Mrs Ruth Thornley, the wife of F B Thornely who is depicted in the mural leading the assault by the 11th Royal Irish Rifles, South Antrim Volunteers, on the morning of 1 July at the Battle of the Somme.
The plaque dates back to July 1989.
"Maybe it is not priceless but this is the 100th anniversary of the Somme and to some, it would be priceless," said Mr Beattie who is an Ulster Unionist councillor and a former soldier.
"Captain F B Thornely was a holder of the Military Cross and so am I. So there is a connection," he said.
Mr Beattie has tweeted a picture of the plaque and hopes that someone will recognise it and get in touch either via twitter or the Ulster Unionist party's website.
"Here is a life that should not be forgotten," he said.