Drumlamph Wood, near Maghera, benefits from plastic bag tax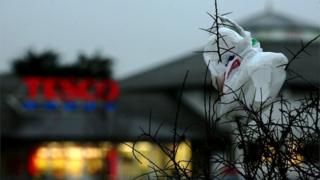 An ancient woodland dating back to the 17th century is one of a number of projects to benefit from the plastic bag tax.
Drumlamph Wood is near Maghera and is managed by the Woodland Trust.
It is one of Northern Ireland's ancient woodlands, continuously wooded since the 1600s, and is home to otters and the Irish hare.
It is one of four woods to share a £38,000 grant from the 5p levy on shopping bags.
The money will be spent to improve access at it and the other sites.
The news comes after the environment minister announced a £125,000 top-up to the Natural Environment Fund.
That is in addition to £1.25m allocated by the fund to environment projects last year.
The other woods to benefit from the grant are Kilcooley in Bangor, Oakfield in Carrickfergus and Canal Wood at Jerretspass in County Armagh.
Other schemes to get the extra money include the Ballinderry Rivers Trust which gets £12,000 to carry out condition checks on otters and provide habitat advice to landowners.
Newry and Mourne Council gets £10,000 to create a wildfire risk map in the Ring of Gullion and to undertake a beach management and litter project at Strangford Lough and Lecale.
The 5p levy on plastic carrier bags came into effect in Northern Ireland in April 2013.