Ulster Unionists consider joining next Stormont Executive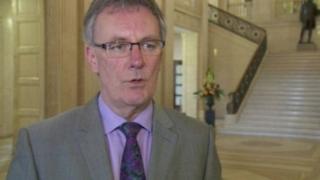 The UUP will decide to join the next executive based on whether it has a progressive programme for government and a collective will to deliver it.
The UUP left the executive last year due to issues surrounding IRA activity and paramilitarism.
Mr Nesbitt said his party had increased focus on the issue and "achieved what we want to achieve".
He also said he would meet with the three-strong panel set up as a result of the Fresh Start deal.
Mr Nesbitt was speaking at the launch of a document setting out his party's vision ahead of May's Assembly election.
It calls for a new era of belief - in Stormont, its politicians and their motivation.
The party intends to publish eight more documents before polling day on areas including health, economy, education and animal welfare.