Colum Eastwood says British government must get more involved in legacy issues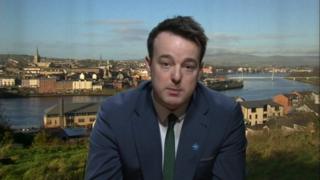 The SDLP leader has said there needs to be more involvement from the British government over the way legacy investigations are funded.
The Northern Ireland Office (NIO) said money could only be released to deal with the past if there was an agreement to establish new institutions.
The issue was left untouched in the deal done between the two governments, the DUP and Sinn Féin.
Colum Eastwood said the prime minister should "step up and step in".
"This is an issue, but the people with the most truth to tell need to be telling and I would encourage the British government in terms of David Cameron, I think David Cameron needs to step up and step in," he told the BBC's Sunday Politics programme.
"This is way above the secretary of state's pay grade.
"He needs to recognise the good thing that he did around Bloody Sunday, he can do that again and offer lots of people that same level of truth and justice."
The Ulster Unionist party leader told Sunday Politics that there needs to be a collective political will towards acknowledging the failings of Northern Ireland's political leaders and to recognise the suffering of victims.
"The easy bite which will make a big, big impact is to recognise so many victims are suffering from poor mental health and well being and that it's inter-generational and people who were born after the ceasefires are suffering the toxic legacy of the conflict," he said.
"Let's do that as a confidence builder.
"Another thing that I'm very keen on is acknowledgement statements.
"I would be prepared as the leader of unionism to make a statement about what unionism did and did not do down the years we were in charge if others are prepared to speak out."
On Friday, the NIO said no more funding would be made available to deal with police investigations into crimes of the past in Northern Ireland.
It was responding to a request from the First Minister Arlene Foster.
She had asked the Secretary of State for extra funding for the PSNI (Police Service of Northern Ireland).
Mrs Foster believes more financial support is needed by police for legacy investigations.
These include cases such as the activities of the Army agent known as Stakeknife. That case alone could cost £35m.
The inquiry, which is expected to be the largest ever in Northern Ireland into the activities of a single individual, is re-examining about 50 Troubles related murders.
On Friday, Justice Minister David Ford reiterated his department's budget is already under significant pressure and the investigation must be funded by Westminster.