Arlene Foster supports Shankill bomb victims' quest for truth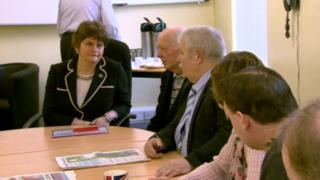 The first minister has said she supports Shankill bomb victims in their search for the truth after an allegation the RUC had prior warning of the attack.
After meeting some of the families, Arlene Foster said she would try to help them in their quest to get the Police Ombudsman to carry out an inquiry.
She also said her party would ask the secretary of state to meet the families to discuss the allegations.
Mrs Foster said the recent claim, which the Chief Constable George Hamilton has strongly denied, had re-traumatised them.
After the meeting on Thursday, she told journalists: "I have been, and continue to be, a long time supporter of the RUC and the Police Service of Northern Ireland, but that doesn't take away from the fact there were a few bad applies around at that particular point in time, therefore we have to get to the truth of this.
"I hear what the chief constable has to say in relation to the truth of these allegations but when you listen to the families and how they have been re-traumatised we have to give them beyond reasonable doubt the certainty that it didn't happen.
"If it did happen then we need to find that out as well."