Stakeknife: Policing Board rejects PSNI chief constable committee request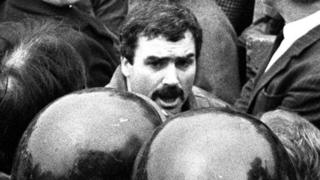 The Policing Board has rejected a request from Police Service of Northern Ireland (PSNI) Chief Constable for a special committee to oversee the investigation into the activities of the Army agent codenamed Stakeknife.
George Hamilton informed the board last week that his preferred option was for the investigation to be conducted by a team of detectives from outside Northern Ireland.
He had wanted the board to take responsibility for holding the team to account for its actions.
The team will re-investigate up to 50 murders.
It is expected to take at least five years to complete its work, at an estimated cost of £5m per year.
The chair of the Policing Board, Anne Connolly, said although the board would not oversee the investigation, members would receive progress reports on the investigation.