PSNI officers cleared of assaulting man during Enniskillen arrest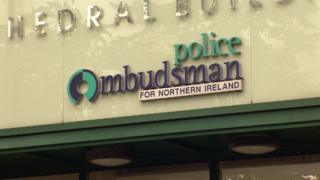 A Police Ombudsman investigation has cleared two officers of punching and kicking a man they were arresting at his home in Enniskillen last July.
The man's family alleged he was put in a headlock, trailed into the garden, thrown to the ground, punched and kicked, then struck with a baton.
The man also complained that handcuffs had been put on too tightly.
He alleged that an officer tightened them further when he complained.
Police Ombudsman investigators took statements from five civilian witnesses, interviewed the officers involved and reviewed police documentation, including a report from the police doctor who examined the man in custody.
The evidence from civilian witnesses was found to be inconsistent and was not supported by the evidence from the medical examination.
Both officers - a man and a woman - denied having punched or struck the man, and said they had only restrained and handcuffed him as he had been aggressive and had resisted arrest.
Their accounts were supported by medical evidence.
The only injuries noted by the doctor were superficial marks to the man's wrists, forearms and back, and the only injuries he himself mentioned were to his wrists.
There were no marks to his neck or face, or any marks to suggest he had been punched, kicked or struck with a baton. The marks on his wrists were consistent with him having struggled while wearing the handcuffs, rather than them having been applied too tightly.