County Monaghan assault: Father and son from NI face trial in October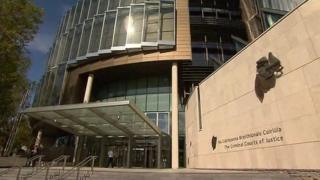 A father and son from Northern Ireland are to stand trial in October, accused of assaulting a man in County Monaghan in the Republic of Ireland.
The accused are Eugene Hanratty Sr (57) of Castleblaney Road, Crossmaglen, County Armagh, and Eugene Hanratty Jr (34) of Dundalk Road, Armagh.
They are charged with assault causing harm to a man in Castleblaney on 24 November, 2012.
Their trial was due to begin this week in Dublin but has been postponed.
On Wednesday, the judge set down a new trial date for 25 October.
She also scheduled a pre-trial hearing for 28 June, 2016.