Stakeknife: David Ford says UK government should pay for investigation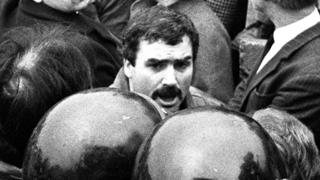 A police investigation into the Army's alleged top agent in the IRA must be funded centrally by the government, Stormont's justice minister has said.
Up to 50 murders during the Troubles in Northern Ireland have been linked to the Army agent, codenamed Stakeknife.
In 2003, the media named Stakeknife as west Belfast man Freddie Scappaticci, but he denies being a British agent.
Justice Minister David Ford has told Irish broadcaster RTÉ the inquiry must be funded centrally, not by Stormont.
The Stakeknife investigation is expected to be the largest ever in Northern Ireland into the activities of a single individual and the cost has been estimated to be at least £25m.
Mr Ford has previously said that he believes the government has a moral and financial obligation to play its part in dealing with the past.
However, a Northern Ireland Office spokeswoman said: "Any such investigation is a matter for the Police Service of Northern Ireland (PSNI). It is the Department of Justice and the wider Northern Ireland Executive who have the responsibility for funding the PSNI.
"This is another reason why we need to build the necessary political consensus to deal with all aspects of Northern Ireland's past - and we believe we are closer to this than ever before," she added.
"The government has made it clear that there is an additional £150m available over five years to support new bodies to be set up to investigate the past."
Last week, the PSNI said it will bring in detectives from other UK police forces to conduct the Stakeknife inquiry.
PSNI Ch Con George Hamilton confirmed the decision to the Northern Ireland Policing Board on Friday.
It followed objections from the families of a number of Stakeknife's alleged victims, who said they did not trust the PSNI to carry out the investigation and who took legal action in a bid to prevent them from doing so.
Meanwhile, Northern Ireland Secretary of State Theresa Villiers has said that agreement on how best to deal with the legacy of the Troubles is "vital".
"We cannot go on as we are. The status quo is not delivering the right outcome for victims and survivors," Ms Villiers told BBC Radio Ulster.
"I believe the best hope of making progress is to implement the Stormont House Agreement and get those new investigatory bodies set up."