Protest held against scheme to replace older staff with newly-qualified teachers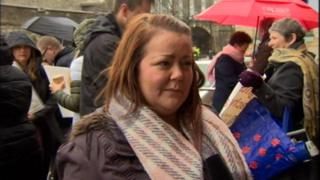 About 50 teachers have held a protest about a scheme to replace 500 older teachers with newly-qualified ones.
It aims to replace teachers over 55 with those who have graduated within the past three years.
However, a number of teachers who have been teaching for longer than that are concerned they will not be eligible to apply for the new jobs.
The Department of Education said that they were still working on the final details of the scheme.
Teacher Catriona Concannon, from Londonderry, is a member of the 'Equal Rights for All Teachers' group, who organised the protest in the city.
"Some of us have been working for years - we have teachers who have 10 or 12 years of experience," she said.
"It's not right that we can't apply for these jobs.
"Do we not deserve the same opportunities as newly-qualified teachers?"
There are hundreds of teachers across Northern Ireland who have been teaching for more than three years without gaining a permanent post.
Deborah Jackson from Glengormley has been teaching for seven years.
"I've been really lucky to go from temporary contract to temporary contract," she said.
"But it means you don't have any job security, you can't get a mortgage, you can't plan what you're going to do.
"I have nothing against a newly-qualified teacher getting a permanent post.
"I myself went to Scotland for a year to get experience, but I think it's really unfair that what year you went to university is going affect whether or not you can apply for a job."
Justin McCamphill from the National Association of Schoolmasters and Women Teachers (NASUWT) welcomed the scheme, but wants some changes.
"Our main issue is that there are some teachers who have been qualified for more than three years who are going to feel that they're being discriminated against in applying for jobs," he said.
The NASUWT has written to the education minister asking him to "consider extending the eligibility of the scheme to include any teacher who has not been able to secure a permanent contract since qualifying".
In a statement, the Department of Education said that they understood some of the "disappointment expressed about the proposed parameters of the scheme".
"Teaching unions and employer representatives have been involved in its development and will continue working with the department on the final details."
They said criteria for the scheme would be finalised in the spring.