UFU president Ian Marshall's legal case can go to a full hearing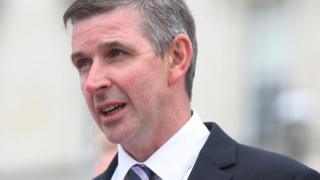 The president of the Ulster Farmers' Union has been told his legal case against the Department of Agriculture can go to a full hearing.
Ian Marshall is suing over how its officials penalised him for a pollution incident on his County Armagh farm in 2011.
Silage effluent from his farm polluted the nearby Mowhan river.
Mr Marshall accepts there was pollution but denies it was intentional.
The pollution incident was deemed intentional by inspectors meaning it attracted a higher penalty.
Mr Marshall had 55% of his EU subsidy, worth tens of thousands of pounds, deducted.
Inspection visits
An independent appeals panel concluded that the discharge had been negligent not deliberate, but the department stuck by its original decision.
At the Royal Courts of Justice on Thursday, Mr Marshall won permission to take the case to a full hearing.
The court was told there had been a number of inspection visits to Mr Marshall's farm.
The problem was eventually traced to a pipe which controlled the run off from a silage pit.
It had been incorrectly set so that effluent ran into a drain which led to a stream, rather than into a collection tank.