Libya compensation: Tony Blair accused of giving 'superficial evidence'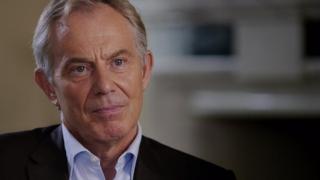 The NI Affairs committee has accused Tony Blair of giving superficial evidence about how he dealt with Libyan authorities when he was prime minister.
The committee is investigating the issue of compensating Troubles victims.
It had invited the former prime minister to give evidence in person, but he declined.
Earlier this month Mr Blair wrote to the cross-party committee insisting that he had not tried to stop victims being compensated.
He said he would provide MPs with written evidence.
In January, Mr Blair wrote: "The attempt to implicate me in deliberately trying to stop IRA victims receiving compensation is utterly without foundation and wrong."
Now in a response to Mr Blair, committee chair Lawrence Robertson said he was disappointed the ex-premier would not appear in person and said the committee found his written evidence "to be somewhat superficial".
In his letter to Mr Blair, Conservative MP Lawrence Roberston has detailed 11 questions the Northern Ireland Affairs Committee would like answered.
They include why Mr Blair's government did not choose to "espouse the claims of UK victims to seek compensation from the Libyan government?"
The committee also wants to know how many meetings Mr Blair had with Colonel Muammar Gaddaffi while in office and after leaving office.
Further questions revolve around whether the issue of compensation for the victims was ever raised and if the Lockerbie bombing was ever discussed.
Mr Robertson told Mr Blair that the best way to deal with these issues was "through your appearance before the committee".
The committee also want to see copies of meetings Mr Blair had with Gaddafi and meetings he had with President George W Bush about the issue.
The Northern Ireland Affairs committee, which includes MPs from the DUP, the UUP and the SDLP, has been investigating the issue of compensation from Libya for a number of months .