NI flooding: Affected roads to benefit from funding boost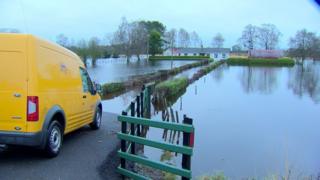 More than £1m is to be invested in roads in Fermanagh and across Northern Ireland following recent serious flooding.
The Northern Ireland Executive allocated the funding to the Department for Regional Development.
It will be used to develop a package of road improvements to mitigate against future flooding.
Transport Minister Michelle McIlveen said the money would be spent on roads and drainage infrastructure.
Describing it as "very welcome news", she said: "As a result of the additional funding, TransportNI is developing programmes of work to raise key roads and to carry out local drainage works.
"This is to help ensure that, in the event of future flooding of the scale seen over the last two months, roads will remain passable, avoiding the need for lengthy diversions."
'Local schemes'
The minister said about £625,000 had been allocated to be spent on key roads in Fermanagh impacted on by the recent flooding.
"These roads will all be raised and, in addition, a number of other local schemes will be carried out to deal with areas where localised flooding cuts off the local community from schools, churches and shops," she said.
"Fermanagh will not be the only area to benefit, as a range of drainage improvements have been identified for parts of Armagh, Dungannon, Downpatrick, Newry and Banbridge including a scheme to address flooding on the A1."
Ms McIlveen said she believed the "package of improvements" would help to considerably lessen the "difficult and distressing impacts" that severe flooding had in communities.
Henry Robinson, a senior engineer with Transportni in County Fermanagh, explained where their focus would lie.
"We are going to concentrate on three principal roads, the three key roads from east to west across the lough," he said.
"We think that this will certainly very much ease the problems that are encountered by the travelling public in the last two months."