Heavy rain causes problems on some roads in Northern Ireland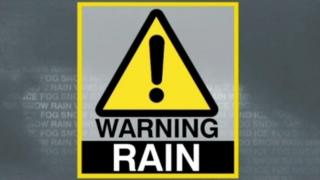 A yellow warning for heavy rain across Northern Ireland on Wednesday morning has been issued by the Met Office.
It advised the public to "be aware of the potential for difficult travel conditions" and said the rain warning is valid until noon.
In County Antrim, recent rainfall has caused a landslide adjacent to the A2 Belfast Road at Whitehead point.
A small number of roads have been affected by flooding and full details are on the Trafficwatch NI website.
Near Newry, County Down, the Ferryhill Road, Cloughoge, has been closed due to flooding, along with the Greenan Road and Mound Road in Warrenpoint.
In County Armagh, the Ballygasey Road in Loughgall is blocked by a fallen tree,
Part of the M1 Belfast to Dublin Road had been closed southbound for a time before junction 20 in Jonesborough, County Armagh, but it has now reopened.
AA Roadwatch said flooding is "no longer an issue" in the area.