Serving waffles at Stormont?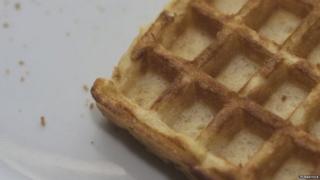 Stormont ministers are often accused of waffling.
Today one admitted it.
Environment Minister Mark H Durkan fell victim to an open microphone after giving an assembly answer on the built heritage.
After sitting down he was overheard remarking to a colleague "that was pure waffle".
Shortly afterwards on Twitter, he held his hands up, tweeting: "Frustrated that I had been unable to give a better, more concise answer to an important supplementary question. I felt I waffled."
Later on, a veteran Alliance assembly member accused yet another minister of waffling saying he had taken too long to answer questions.
Kieran McCarthy called the performance by Health Minister Simon Hamilton "a disgrace".
He called on ministers to "give less waffle and more answers to get through the business".