Brexit: Arlene Foster says Enda Kenny has right to express opinion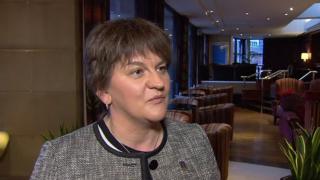 Northern Ireland's First Minister and DUP leader Arlene Foster has said the Irish prime minister has a right to express an opinion on the UK's relationship with the European Union.
Mrs Foster was responding to comments made by Enda Kenny on Monday.
Mr Kenny said that it would create "serious difficulties" for Northern Ireland if the UK was to leave the EU.
Mrs Foster said ultimately it was a decision for voters in a future referendum.
"It is for the people of the UK to decide what's the best way forward and, as you know, we don't take too kindly to people telling us what to do," she said.
"I'm saying to Enda, if you have an opinion, that's your right to have that opinion and if you want to express it, that's your right as well, but we here in Northern Ireland will make our own determination in relation to Europe."
On his remarks, Mrs Foster said: "You could interpret them as interfering, but I prefer to take the benign view that he is expressing his views."
She said that if Mr Kenny was interfering, "he should know better".
'Intertwined'
The DUP leader also expressed concern that the timing of the referendum campaign could coincide with the assembly election in May.
She told the BBC she was worried the two campaigns could be "intertwined".
It has been suggested that an EU referendum may take place in June and Mrs Foster is concerned this is "too close" to the assembly election in May.
The DUP leader has said she hopes Prime Minister David Cameron would take this on board when he sets the date for the referendum.
She thinks the two campaigns could become "integrated" and that would be "wrong for democracy".
The first minister made her comments at a business event promoting Northern Ireland's food industry in Belfast on Tuesday.
Agriculture Minister Michelle O'Neill also attended the event.
"I think there are many challenges within Europe, but I think we need to take those on," she said.
"We need to get out there and fight our corner, but, yes, I do think we're better served within the European Union."
Earlier, Mrs Foster's party colleague, Nigel Dodds, said it was "disrespectful" for politicians from outside the UK to tell people how to vote in the forthcoming EU referendum.
Mr Dodds said it was counterproductive to "lecture us as to what is best for Northern Ireland".
He added: "I trust that Enda Kenny will keep this in mind when making future comments about the EU referendum."
The Irish government has made it consistently clear that it does not want to see Britain leave the EU.
Its main concern is economic - the UK is Ireland's biggest trading partner and the two countries trade over 1bn euros (£760m) of goods and services every week.
Ireland's other concerns include the potential impacts on Northern Ireland and the wider British-Irish relationship.
A referendum on UK membership of the EU must be held by the end of 2017, though it could be as early as June this year.
At the weekend, Irish Foreign Minister Charlie Flanagan said a UK exit from Europe would be "a leap into the unknown".