Kenneth O'Brien murder investigation: DNA tests to identify canal remains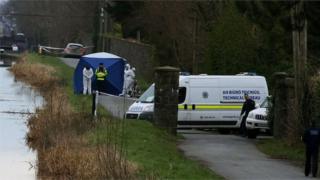 Irish police have said they expect DNA results later to confirm the identity of human remains found in the Grand Canal at Sallins in County Kildare.
Kenneth O'Brien's dismembered torso was found on 16 January in the canal near Ardclough in Kildare.
Detectives believe his murder is connected to the activities of a criminal gang.
Bags containing more remains were found on Sunday night in the Grand Canal at Sallins.
Another bag was recovered as part of the investigation from the same canal at Fonthill in Dublin.
RTE is reporting that police are also examining other items, including a power tool component, which were taken from the water during searches by the Garda (police) underwater unit.