Don't be like Dissident Dan say PSNI tapping into latest internet trend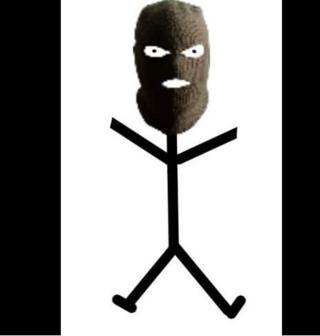 There's a new meme on the block and his name is Dissident Dan.
He's the brainchild of the PSNI and he's a stick man with attitude and a woollen balaclava.
He is based on a similar stick figure who has taken the internet by storm. The original Bill is the creation of Eugeniu Croitoru.
Bill is a polite stick man who is clogging up Facebook timelines with tongue-in-cheek advice about the correct way to behave online .
Bill is far too polite to tell you straight out not to do something. Instead he leads by example. But the message is clear and often very funny.
The images first started appearing online late last year, but have surged in popularity in January, spurred on by a dedicated Facebook page simply called "Be like Bill" - which now boasts more than 1.25m likes.
Dissident Dan, on the other hand, is his nemesis.
He's an example of how police in Northern Ireland are tapping into trends to get a serious message across.
Dissident Dan, the brainchild of police in Craigavon, was posted after security alerts at a railway line in Lurgan and serious disorder when more than 100 petrol bombs were thrown at police at Lake Street. A shot was also fired at police.
In their post, police said: "This is dissident Dan. Dissident Dan has an irrational hatred of trains. Dissident Dan also hates the people of Lurgan going about their day to day lives in peace.
"Dissident Dan lives in the past, and puts things on the train tracks in order to stop the trains, and his own community. Don't be like Dan."
The message ended with a "HUGE" thank you to people in north Lurgan for their patience during the alert.
"Thank you for your kind words as we went door to door, and for the 99.9% of you who didn't come out throwing stuff at us or shooting at us as we tried to keep you safe.
"The alert is now over and the roads are open. Trains will get back to normal over the coming hours," they said.