Belfast's cruise ships boom prompts double spend on new docking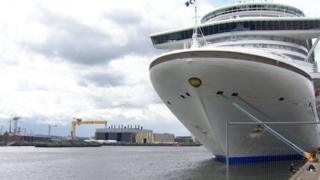 Belfast will welcome a record number of cruise ships in 2016 and is to double its spend on a new docking facility.
Eighty-one cruise liners will visit the city this year, but the new berth will not be ready until 2017.
The £14m facility will also not be as close to the city - and its top attraction - as was first planned.
It was to have been near Titanic Belfast who are "disappointed" that the project is to switch location to a site further away at Airport Road West.
The cruise dock project is more than two years behind schedule.
The delay has been caused by environmental issues at the location originally selected, Alexandra Dock.
The new location is further down Belfast Lough - an area known as D3 - and will have the advantage of being able to handle much larger cruise ships.
Travel trade
Costs are projected at between £12m-£14m, twice what the outlay would have been at the site first selected.
Belfast Harbour will spend more as D3 will double as a cargo dock in the cruise ship off-season.
Titanic Belfast said in a statement: "Whilst we are disappointed the terminal cannot be located at Alexandra Dock, we understand the reasons why.
"It is essential the travel trade continues to work closely once the ships arrive to ensure visitors are afforded every opportunity to see all parts of the city."
Belfast welcomed more than 115,000 cruise passengers and crew last year.
Planning for the D3 dock is about to be submitted, with the harbour hopeful of a decision within months.
The construction time is estimated at about eight months.
Gerry Lennon, chief executive of Visit Belfast, said: "It is great news for the city's tourism industry that we have secured 81 cruise ships.
"Having the right infrastructure in place is crucial to the city realising its potential with cruise ships.
"We welcome the news of the new facilities being built in the harbour estate."