Bail for Wenjie He, 38, and Jaizhu Cai, 31, over £20m cannabis smuggling plot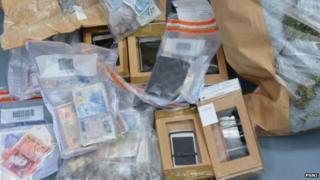 Two men accused of taking part in a plot to smuggle cannabis valued at nearly £20m into Northern Ireland have been granted bail.
A High Court judge ruled that Wenjie He, 38, and Jaizhu Cai, 31, can be released from custody under strict conditions.
Both face charges of importing and conspiring to supply Class B drugs.
They are also accused of transferring criminal property and having cannabis with intent to supply.
The men were arrested in March 2015, following an international investigation involving the Police Service of Northern Ireland, the National Crime Agency and the Italian police, the Carabinieri.
Prosecutors claim drugs were trafficked from Italy to rented houses in Northern Ireland. An estimated £15m of drugs were delivered to Northern Ireland.
Up to 80 packages, each containing about 10 kg of cannabis, were sent via a courier service between January 2014 and March 2015.
Addresses in Belfast, Greenisland, Bangor, Newtownards, Ballywalter, Larne and Ballyclare were allegedly used.
Police have been working with their Italian colleagues, who uncovered a cannabis factory there.
Charges have been brought against 16 people.
Mr Cai, of Dunleath Drive, Ballywalter, County Down, and Mr He whose address was given as no fixed abode in Newtownards, are accused of being part of the operation.
In court in Belfast on Monday, their defence lawyers argued that they should be released because of the potential delay in the investigation.
Mr Cai's lawyer said he had spent months behind bars, and that any trial was unlikely before the end of this year.
Granting bail, the judge imposed restrictions and ordered the men to stay at addresses approved by police.