Oil drilling: Woodburn site licence terms change for Infrastrata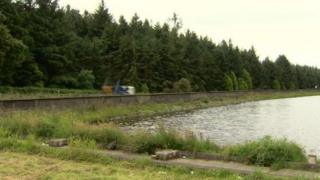 A company that wants to drill for oil in County Antrim will now not have to start work within weeks after the terms of its licence were varied.
Infrastrata says it believes there could be 25 million barrels of oil at Woodburn, near Carrickfergus.
Its original licence, which was granted five years ago, required it to start exploratory drilling by 3 March 2016.
But it wrote to the Department of Enterprise, Trade and Investment (DETI) last year to seek a variation.
That has now been agreed and removes the requirement to drill the well within the initial five-year term of the licence.
Impact
The well has proved controversial.
The site is within a catchment area for a reservoir that supplies drinking water to thousands of homes in Belfast and Carrickfergus.
Northern Ireland Water has said it believes the project will not have a detrimental impact on the public water supply.
The variation in the terms of the licence means the company can move into a second five-year term.
A spokesperson for DETI said: "DETI still requires, and the licensees remain committed to, drilling the exploratory well at Woodburn."
Shocked
The department added that the requirement to drill was included as a "time-bound condition" of the agreed work to be completed within the second five-year period.
A spokeswoman for Infrastrata said that the licence would run into its second term and confirmed the company's intention to drill within the period of the licence.
Activists from the Stop The Drill campaign said they were "shocked" by the change to the terms of the licence.
A spokeswoman for the group said DETI had taken the decision "behind closed doors, with no opportunity for scrutiny, and despite concerns from across the political spectrum".