Three pupils suspended at Bangor Grammar after 'concerns about drugs'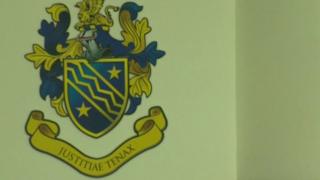 Three pupils at Bangor Grammar in County Down have been suspended after the school was made aware of concerns about drugs.
One pupil was thought to be distributing cannabis, while the other two were disciplined for allegedly possessing it.
An email was sent by the school to parents telling them of the incident.
It said it had been "proactive in dealing with this situation in line with school policy".
It added that the opportunity had been "taken again to warn our pupils of the dangers of becoming involved with drugs and those persons associated with drug use".
Bangor Grammar principal Elizabeth Huddleson told BBC Radio Ulster: "Sadly we live in the real world and sadly this is an issue affecting many of our young people currently.
"It does take up a lot of school time, but I think as a school it is absolutely vital that it is dealt with and dealt with swiftly within our jobs education policy by way of supporting individual pupils, but also by way of continuing to educate the boys about the dangers that really are lurking out there."